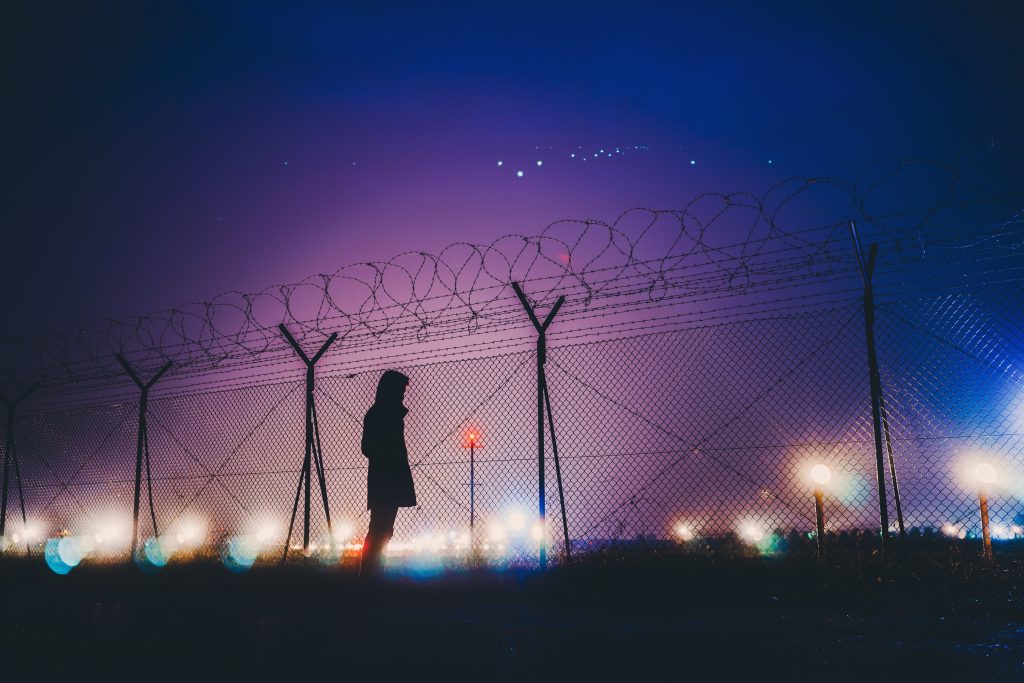 Behind the wire, a term used to set the boundaries between the outside world and the prison environment. For the past six years I have had the privilege to be a representative of God's love to the men and women of the U.S. Military who are incarcerated. There exist a world behind the wire, a world most people are not exposed to. This is a community where there is no internet access, no cell phones, and limited contact with the outside world. Such is Life Behind the Wire. During my six years of service within this community I have uncovered a powerful truth… Faith lives behind the wire as well.
A common denominator between the outside world and life behind the wire is… people. The men and women who live in the prison environment carry out life each day,  just like you and I. They have families, jobs, and they too are on a faith journey with God.
I have spent countless hours behind the wire getting to know these  amazing individuals. We have talked, laughed, cried, and worshiped together. Basically, I have been invited to be a part of their life Behind the Wire. Few people have the opportunity to share in such an experience. Personally, this journey has strengthened my faith in many ways.
I want to share with you six lessons God taught me about Faith during my time Behind the Wire. I believe these truths will help increase your faith, no matter where on the road of life you may find yourself today.
These lessons will forever be etched in my heart as a reminder of God's unfailing love, and the power of that love to change lives.
Love Unconditionally ~ Things are not always as they appear
On Sunday mornings week after week, my husband and I enter the brig for Sunday church service. YES…church services exist behind the wire! Each Sunday as we enter the brig, we are committed to greeting as many men and women as time allows. This may consist of a handshake, or a smile to let them know they are recognized, and we are happy to see them.
There was one man in particular, let's call Him Charlie. Each week I would greet Charlie just as I did the others, however, for some unknown reason I sensed I was not making a connection with him. I could not tell if he was thankful for the greeting or if he could care less. I began to petition the Lord in prayer about him, asking the Lord what the barrier was between Charlie and I. All I heard in response to my prayer was,  'continue to show him kindness and respect'. So this I did, week after week, year after year. It appeared nothing changed each week, yet I continued as usual.  Oddly enough, one Sunday after service Charlie approached me and asked if he could speak to me. You could imagine my surprise. He explained to me he was being released that week and did want to leave without apologizing to me.  Charlie, went on to explain that he was sorry for not be kinder to me. He stated,  it was nothing I said or did, however, as a prisoner he was so conditioned to keep his distance from 'females' he never allowed himself to get to know me very well. He wholeheartedly, told me that he deeply regretted that. He went on to share that my continual acts of kindness and respect towards him did not go unnoticed and he wanted me to know how much I have impacted his life during the time he was incarcerated. I had no idea this was the reason behind what appeared to be his lack of engagement.
My faith was strengthen in the power of unconditional love
Cast no Judgement ~ Judgement in Blinding
Admittedly, when I first began working at the brig, it was a bit intimidating. Going behind the wire, needing to pass through doors that could only be opened through the control center, and passing inmates in the hallway, definitely got my attention. However, the more time I spent there, and as I began to invest time in the lives of the people there, life behind the wire began to feel 'normal' to me. God's amazing grace transformed my perceptions. I no longer saw a prison full of inmates, but rather a community of people in need of God's love.
My faith was strengthened in the power of God's love to overshadow judgement
Obedience

~  

God  can do BIG things through Small acts of obedience
During Sunday services, I often received, from God, a word of encouragement for one of the men or women. When this happened I would call the individual to the side and share with them what I heard the Lord say. Often it is evident that God spoke directly to their hearts, other times, not so evident, yet nonetheless, I stayed obedient to what God had instructed me to do. On occasion, I would receive these words of encouragement while  in my private prayer time. One time in particular, I recall receiving a word for, let's call him Joe. I wrote down what I heard so I would be able to share it with him. When I saw Joe the following week, after going through the proper protocol, I shared with him the word I had received during my prayer time. He took the note, thanked me, and we continued on with service.
Years later, Joe was being released, it was his last Sunday and he approached me to say goodbye. He also took a moment to recount the day I handed him the note, he then proceeded to open his bible to show me he still had the note in his bible and it constantly encouraged him. What a wonderful good bye gift I received that day.
My faith was strengthen in the power of obedience
Limits

~

There are no limits with God
Over the years I have journeyed with many of the men and women through some very tough situations; accepting harsh sentences, dealing with the loss of a loved one, relationship problems and a host of things inbetween. I have seen God work in miraculous ways as they open their hearts and surrender their struggles to Him. At times God calmed the storm, other times He strengthened them to withstand the storm. There was no limit to how God would demonstrate His faithfulness and power in their lives.
My faith was strengthened in seeing God as the Way Maker
Talents

~

God  will use your talents wherever you are
Every week, the gym is transformed into a place of worship. Chairs need to be set up and taken down, the sound system needs to be assembled and disassembled. Opening prayer and inspirational prayers to be scheduled, along with worship songs to be  chosen and sung. My heart was filled week after week as I arrived for Sunday service to see all these things in place. The men and women would graciously set aside their own trials to  ensure there was a place arranged to worship together.  Even in prison, their God given talents were being used to bring God glory.
My faith was strengthened in the Unity of the body of Christ
The barb-wire may keep some people out of the prison environment, but it could never keep the love and power of God out. My faith has been strengthened over the years serving God behind the wire. I will forever be grateful for the men and women, God used to help strengthen my faith as I served God by serving them.
I pray today, no matter if you are just beginning your faith journey, or if you have been on this road for a long time, may your heart be opened for God to take your faith to a deeper level.
Loving unconditionally, setting judgement aside, being obedient, taking the limits off God, and using your own God given talents to serve others, are ways to strengthen your faith.
Faith is powerful both in your world and Behind the Wire.
-Lucy Ann
Challenge Question:
How has God strengthened your faith lately?
Be sure to "Join the Team" so we can stay connected!