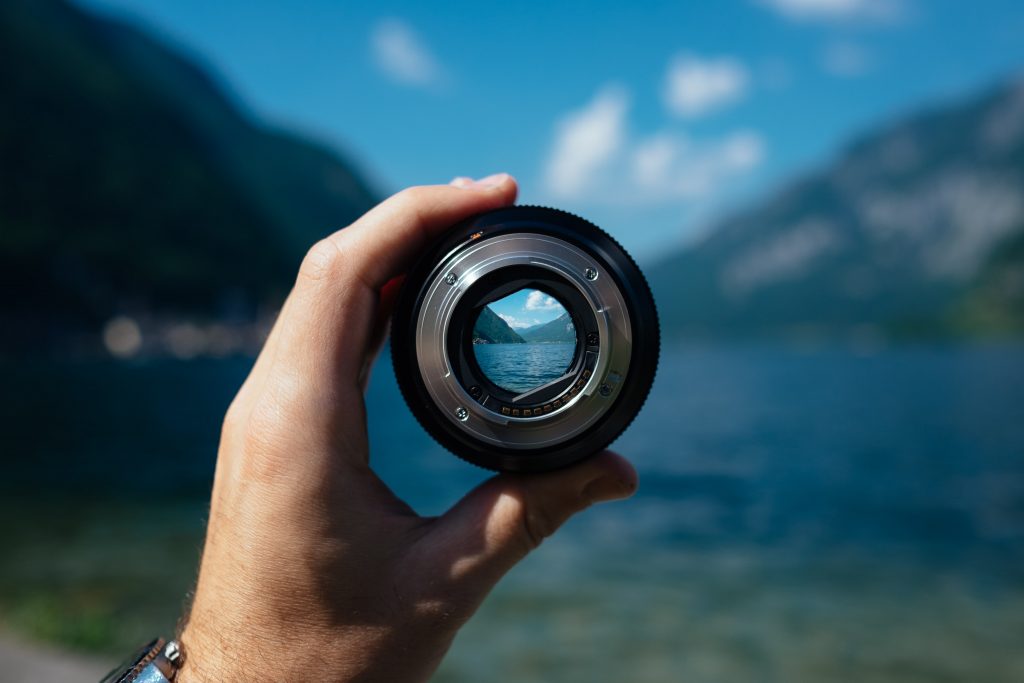 It was a beautiful sunny day in Florida, I was strolling along the Bayfront with my daughter, cameras in hand.  We both love to take photographs of people and things we encounter on our adventures. On this particular day there was an art display of huge abstract pieces lining the waterfront.  Immediately, we began shooting photos of these beautiful art forms. After walking around for quite some time,  I distinctly remember stopping to view the pictures we each had taken. It was in that very moment I learned a valuable lesson about perspective.
One structure which caught my attention was a tall, square frame, tilted at an angle, and place on its base. Coincidentally, it caught my daughters attention as well.  We both had captured a picture of this piece, yet our perspectives were totally different. I recall marveling at her photo, and asked, " how did you see that"?  After she showed me the angle in which she took the photo, things clearly came into focus. It  was there all along, only I had not recognized what was obvious to her.  It was an astonishing revelation. We were looking at the same abstract art piece, in the same place, at the same time, yet we both captured diverse images.  Perspective in action!
Life is much the same way…it's all about perspective!  Some look at the day and see nothing but challenges while others see opportunities. Some see sadness where others see hope. Perspective frames the images of life we carry in our hearts. These images directly impact our ability to uncover purpose in our everyday life.
What are the images you have stashed in your heart? Are they images of empowerment or images of defeat? Your perspective can shift in an instant if you are open to embracing a view which may be contrary to what you currently see. It is in these moments of awareness when transformation takes place and things come into focus. 
There are hidden principles found in God's word that will enable you to shift perspective and alter your outlook on life.
Listen for God's voice to hear  His perspective
Trust His instructions
Obey
Joshua, a great leader in God's army, understood these principles despite the daunting circumstances awaiting him in battle. We see this story unfold as Joshua led his troops into the land of Jericho, the land God promised to His people.Yet when they entered the land they found it literally 'walled off' (Joshua 6:1). Research indicates the wall to be approximately 12-17 feet high, and 6.6 feet thick. Talk about being shut out of the promises of God! How about you? Does it feel like the promises of God, which you have been holding onto,  are  'walled off' ? Take heart…
Joshua saw what everyone else saw, yet he was not overwhelmed with despair because he had a word of victory from God. He had an image in his heart of leading God's people into the promise land, and that shaped his perspective. He wasn't going to let circumstance distort his focus. How about you? Have you shifted the image in your heart  from that of a promise to a wall which seems insurmountable?
God gave Joshua a plan, he plainly laid out every detail for him. The instructions were clear. (Joshua 6:2-5). Joshua obeyed God. He directed the troops according to God's words and the walls came down, just as God said they would. Amazingly, it was easier than they could have imaged. God's power was released through their obedience. Surely this changed their perspective.
God is faithful to His promises despite what your circumstances may currently look like. Take out your camera, begin to shoot photos from God's perspective, and stand in Awe of what God shows you. Just as my daughter saw something I didn't see, you too will be amazed when God show you the picture of your life from the lens of His love… it will change your perspective and bring life into focus!
Perspective plays a vital role in uncovering purpose everyday life.
-Lucy Ann
Challenge Question:
Are you willing to allow God to re-frame the images in your heart? Leave a comment below, and share your experiences with us.
Be sure to "Join the Team" so we can stay connected!