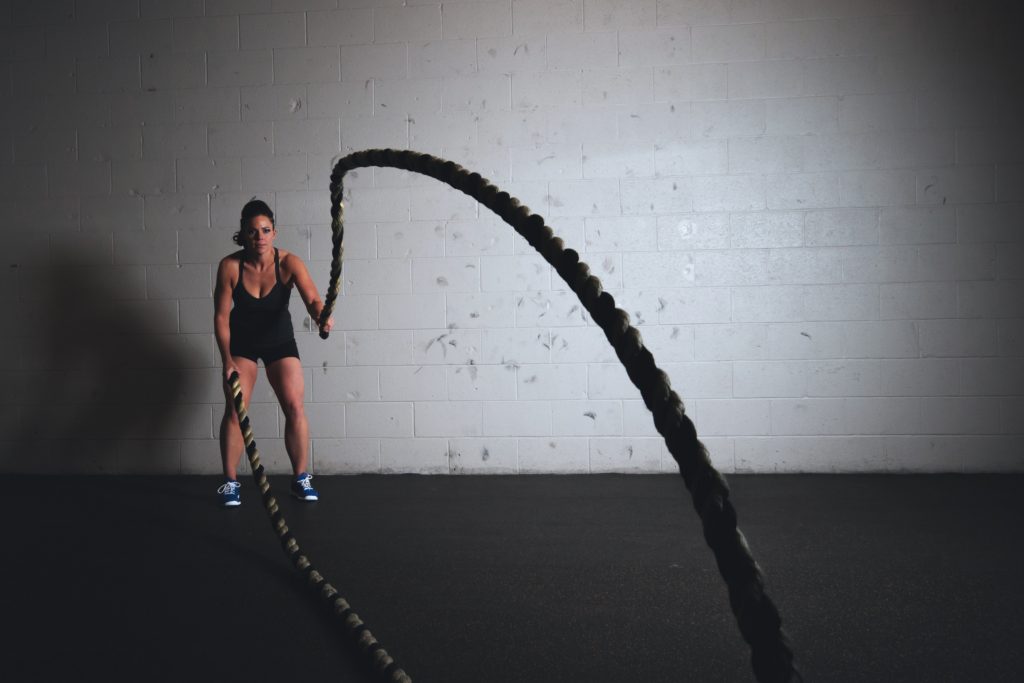 Define defeat. For most people it would be the absence of winning, attaining anything less than first place, being rejected, overlooked, or abandoned. Dictionary.com defines defeat in this manner; "to eliminate or deprive of something expected".  Are you feeling defeated today? Has life thrown you a curve ball you were not expecting. Have your hopes been dashed?  There are many things in life which may cause you to feel defeated. Take heart, defeat is an attitude. Just as you can feel defeated…you can easily feel empowered. I urge you today to reconsider your personal definition of defeat. Hidden within each struggle is an opportunity.  Train to be victorious (1Corinthians 9:24)!
Opportunities to succeed or fail are present every day for everyone. It is your attitude which frames the outcome. A moment in time when you make a choice.  It is in this brief segment of time where you decide, much like a boxer who has been knocked to the mat, do you stay down and stop the fight? Or do you get up, with flames of passion in your eyes, and continue to battle fearlessly? Can you believe for what you do not yet see? (Ephesians 3:20)  If you accept defeat, it is your choice. Losing a battle does not mean you have lost the war.  
The battle may  have been lost, circumstances have not gone in your favor, you have been knocked down.  Be encouraged… the war is not over. Thousands of years ago, it appeared Jesus lost the war, when in reality it was merely a battle. The war was not yet over! Sunday came, and He was crowned victorious! The resurrection happened because it was ALWAYS in God's plan for Jesus to defeat death and the grave. God has final authority (Revelation 1:8).
What seems dead in your life? What battle have you given up on? Get up…God has empowered you to be victorious. Don't accept anything less than God's best for your life.
Many years ago, it appeared as though the enemy not only knocked me down, but knocked me out as well. My 19-yearlong marriage came to an end. My family was hurt and bleeding and there seemed to be no cure in sight. I had a choice, accept defeat or get back up on my feet and keep fighting. It is possible to lose a battle, or several battles, and still be victorious. It is a matter of perseverance! How badly do you want to live a life of triumph? It isn't over until it's over… God is the final authority.
What many accept as defeat is nothing more than a knock down. The enemies scheme to kill, steal and destroy, in an attempt to prevent you from fulfilling your divine purpose (John 10:10). Why give up before the fight is over? Don't allow the enemy to derail your destiny. God's blessings belong to you!
You may believe things are simply out of your control. That is a lie. You have TOTAL control over your thoughts. Your thoughts shape your habits, and your habits define your life. You can choose where to focus your energies (Philippians 4:8).
I know it's tough. It was tough for me to get up, face the onslaught of negativity surrounding me, the judgmental opinions of others, and the shame I felt in my own heart. I had a choice; succumb to defeat or let my faith fight for me!  It's all about attitude. Feelings are real, yet they do not have to control your decisions! Can you believe for good to come of something bad? "Now faith is confidence in what we hope for and assurance about what we do not see" (Hebrews 11:1). Faith muscles are strengthened in the fight.
If you are going to uncover purpose in your everyday life you must re-define defeat and repackage those negative thoughts as you live by FAITH.  I chose to believe God still had a great plan for my future (Jeremiah 29:11). Walking by faith is not easy, but neither is living in defeat.
Decide to get up. Here are a few training tools you can use to help you get back in the fight:
Regroup

: take time to regain your strength after the battle.

Pray

:

If you are too exhausted to pray, ask someone else to pray for you. (I had to rely on the prayer support of others while I was dealing with my grief as I  could not muster up the energy to pray) (

Matthew 18:19

).
Review

: If you got knocked down review the tapes, learn from the experience. Evaluate your thoughts and actions.

Believe

:

God is with you, God is for you (

Isaiah 41:10

).
Trust: God is able (

Mark 10:27

).
The enemy made a big mistake when he knocked me out…he left me breathing! With God's help I got up, my purpose was not derailed. I am uncovering purpose in my everyday life! 
I will encourage, inspire and support you along your journey of faith. God is not a respecter of persons. He turned my lost battles into a life of victory, He will do the same for you!
Eradicate defeat from your vocabulary!
-Lucy Ann
Challenge Question:
How have you allowed defeat to enter into your conscious/unconscious thoughts? What steps will you take to eradicate defeat from your life?
Be sure to "Join the Team" so we can stay connected!